Diagnostic Imaging Services Available
3-D Digital Screening Mammograms Now Available at Southern Hills Hospital!
To schedule, call (702) 916-7288.
3-D is a revolutionary new screening and diagnostic breast imaging tool to improve the early detection of breast cancer.
Red Rock Radiology radiologists are board certified and fellowship trained to offer superior service and quality to our referring physicians. We are accredited by the American College of Radiology (ACR) in MRI, computed tomography, ultrasound and nuclear medicine.
To schedule an appointment call (702) 916-7288. Need x-rays or medical records? Please visit Medical Records.
Our Imaging Center is proud to offer a no-film environment — complete with a Picture Archiving Communications Systems (PACS) and computerized radiology. The PACS system digitally stores, transmits and displays radiology images allowing for immediate access to patient information and increased efficiency for the staff. Computerized radiology offers significant diagnostic quality advantages over conventional film methods.
Southern Hills Hospital was awarded American College of Radiology (ACR) accreditation in the following modalities: magnetic resonance imaging (MRI), computed tomography, ultrasound and nuclear medicine. Each has a three-year term of accreditation as the result of a review by the American College of Radiology (ACR).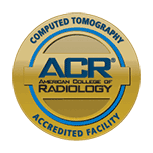 The ACR gold seal of accreditation represents the highest level of image quality and patient safety. It is awarded only to facilities meeting ACR Practice Guidelines and Technical Standards after a peer-review evaluation by board-certified physicians and medical physicists who are experts in the field. Image quality, personnel qualifications, adequacy of facility equipment, quality control procedures, and quality assurance programs are assessed. The findings are reported to the ACR Committee on Accreditation, which subsequently provides the practice with a comprehensive report they can use for continuous practice improvement.
The ACR is a national professional organization serving more than 36,000 diagnostic/interventional radiologists, radiation oncologists, nuclear medicine physicians, and medical physicists with programs focusing on the practice of medical imaging and radiation oncology and the delivery of comprehensive health care services.
Outpatient Infusion Center: Infusing Excellence
To schedule an appointment, please call (702) 916-7868
We are here to help!
We provide Outpatient Infusion Services for the Adult, Hematology, Oncology, Rheumatology, Family Medicine, Internal Medicine and OB/GYN populations. We administer blood products, which include Platelets and Packed Red Blood Cells. We also provide IV hydration, antibiotics, anti-nausea medications, electrolyte replacement and the following infusions: Iron, Reclast, Remicade, Solumedrol and Zometa.
Our goal is an excellent patient care experience. We look forward to serving you!
Frequently Asked Questions (FAQs)
How do I schedule a blood transfusion?
All patients must have appointments, which are to be made by the attending physician or physician's office and scheduled with the Southern Hills Hospital Surgical Services/Operating Room scheduling department. The number for the scheduling department is (702) 880-2900, Option 1. Our schedulers are happy to assist you! Please fax the physician order, Current Medication List, and Recent Progress Note to (866) 741-0563. The patient will also be scheduled for a Type and Screen the day before the transfusion. Patients must register at the Admitting reception desk at Southern Hills Hospital. When patients enter the main lobby, Admitting is directly to the left.
How long is a Type and Screen good for?
A Type and Screen is good for 72 hours. For example: A patient can have their Type and Screen drawn on Friday, and have their transfusion on Monday.
How long does each unit take to transfuse?
Every patient is different. Typically, Packed Red Blood Cells take approximately two hours per unit to transfuse. Platelets take approximately one hour per unit to transfuse.
What are the days of operation?
We currently see outpatients Monday through Friday. The Operating Room schedulers will assist you with appointment times.
In addition to blood transfusions, what other services do you provide?
IV Hydration, Antibiotics, Anti-Nausea Medications, Electrolyte Replacement and the following infusions: Iron, Reclast, Remicade, Solumedrol and Zometa.
Are there any other reminders for patients coming to Outpatient Infusion?
Patients should take all scheduled medications before their infusion. Dress comfortably! Patients will be in recliners for their infusions. There are flat screen TVs for each patient. Patients can eat before their infusion. They may also bring in snacks, or we have snacks available for them.
Thank you for the opportunity to serve you!